Pseudosphetta moorei Cotes & Swinhoe
Sphetta moorei Cotes & Swinhoe, 1887, Catalogue of the Moths of India: 172.
Sphetta apicalis Moore, 1879, Proc. zool. Soc. Lond., 1879: 455, praeocc.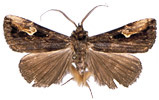 Pseudosphetta moorei

| | |
| --- | --- |
| | |

Diagnosis. See fissisigna above and the diagnosis of the next species.

Taxonomic note. As noted below, the male genitalia of moorei show bilateral asymmetry in the more basal saccular processes of the valve. That on the right is always smaller than that on the left. However, the shape of these processes varies through the range of the species: right absent, left digitate (Sri Lanka); right simple, left asymmetrically bifid (N. India, Thailand); both digitate, left slightly outcurved (Borneo); right bulbous, left strongly outcurved (Sulawesi); both with lateral process, much longer on left (Seram).

Geographical range. Sri Lanka, India, Taiwan, Thailand, Andamans, Peninsular Malaysia, Sumatra, Borneo, Sulawesi, Seram.

Habitat preference. A single male has been taken at 1000m in lower montane forest on G. Mulu.

Biology. The early stages were described by Bell (MS) . The larva has the prolegs of A3 and A4 reduced to small cylinders. The head is speckled green. The body is cylindrical and uniform green above a broad, white subspiracular band. The ventral surface is also green. The primary setae arise from black dots.

Pupation is in a cell made between two leaves and lined with white silk. The pupa does not have a powdery bloom.

The host plant recorded was Pongamia (Leguminosae).