Pseudosphetta fissisigna Hampson
Pseudosphetta fissisigna Hampson, 1926, Descr. Gen. Spec. Noctuinae, p. 23.
Pseudosphetta fissisigna Hampson; Holloway, 1976: 32.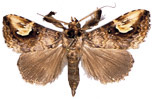 Pseudosphetta fissisigna


Diagnosis. Both this and the next species bear a superficial resemblance to the notodontid genus Sphetta Walker (Holloway, 1989: 208), but the pale cream area based on the costa is shaped differently; in Sphetta it has a shallow, evenly curved posterior margin extending from the apex to a dentate projection in the discal area. Its shape also distinguishes between the Bornean Pseudosphetta; it is much deeper, more prominent and has a distinctive tooth directed distad at its dorsal extremity in fissisigna.

Geographical range. Peninsular Malaysia, Sumatra, Borneo, Thailand (VK).

Habitat preference. This is essentially a species of lowland forest, including heath forest, but is uncommon. Single specimens have been recorded at 1000m on G. Mulu and at 1200m on G. Kinabalu.