Erygia antecedens Walker comb. n.
Briarda antecedens Walker, [1858] 1857, List Specimens lepid. Insects Colln Br. Mus., 13: 1099.
Felinia precedens Walker sensu Holloway, 1976: 32.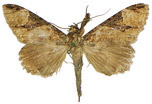 Erygia antecedens


(Singapore)

Diagnosis. See the previous species.

Geographical range. Peninsular Malaysia, Sumatra, Borneo.

Habitat preference. The species is almost as rare as precedens, with six specimens taken in recent surveys: one in lowland dipterocarp forest at 150m at the foot of G. Mulu; two at each of 1620m and 1930m on G. Kinabalu; one from lowland forest in the Barito Ulu of Kalimantan Tengah.