Macrobrochis borneensis Roepke
Macrobrochis borneensis Roepke, 1938, Ent. Z., 52: 53.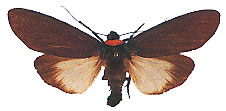 Macrobrochis borneensis

(approx. lifesize)

Diagnosis. This is the largest Bornean lithosiine, the grey colour relieved by an orange collar and a broad white zone to the hindwing being diagnostic.

Geographical range. Borneo, Peninsular Malaysia. Material from Java and the Philippines that may be referable to borneensis in NNM, Leiden, has been examined but not dissected.

Habitat preference. During the Mulu survey three specimens were taken at 1000m on G. Mulu. Three more have been taken at about 1618m on Bukit Retak, Brunei.