Phyllodes verhuelli Vollenhoven
Phyllodes verhuelli Vollenhoven 1858, Tijdschr. Ent., 1: 159.
Phyllodes cerasifera Butler, 1883, Ann. Mag. nat. Hist. (5), 11: 426.
Phyllodes floralis Butler, 1883, Ibid., 11: 427.
Phyllodes enganensis Swinhoe, 1904, Ibid. (7), 14: 424.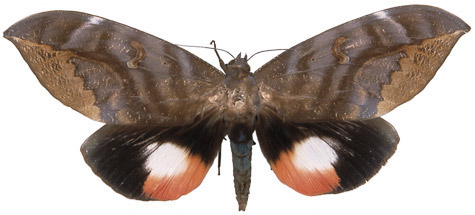 Phyllodes verhuelli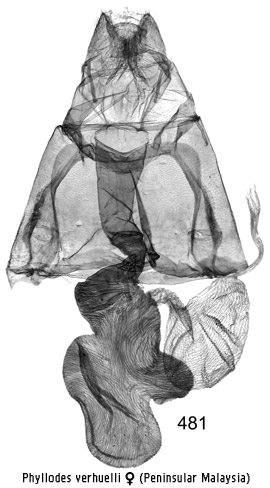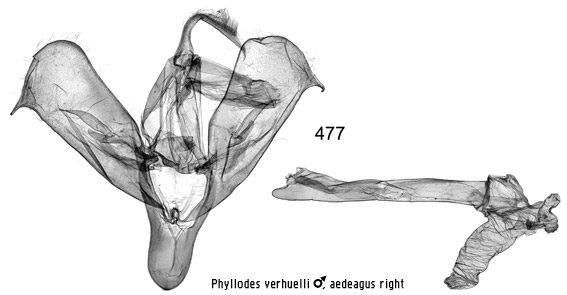 Diagnosis. The forewings are greyer than in the previous two species and the reniform is more sinuous. The hindwings are distinctive, black with a large pink and white patch at the tornus.

Taxonomic note. This species is one of a mostly allopatric sequence with very similar facies and male genitalia that extends from the Indian Subregion to Australia and New Caledonia. They are best distinguished on the disposition of coral red and white markings on the hindwing as follows: P. consobrina Westwood (= perspicillator Guenée, roseigera Butler, maligera Butler) from the Indian Subregion, Thailand and the Andamans, with a red circle at the dorsum that is centred diffusely with white to a variable degree; P. verhuelli as above, with the white area larger and displaced inwards from and adjacent to the red on the dorsum; P. conspicillator Cramer (= inspicillator Guenée) from the S. Moluccas, New Guinea and Sulawesi, with the dorsum all red and with white at the apex; P. imperialis Druce (= papuana Hampson, meyricki Olliff, dealbata Holloway) from New Guinea, Queensland, the Bismarcks, Solomons, Vanuatu and New Caledonia, with the red a more central band and a variable development of diffuse white marginal patches. This arrangement departs somewhat from that in Poole (1989), which excluded maligera Butler (1883, Ent. mon. Mag. 20: 138). The synonymy of imperialis is as in Nielsen et al. (1996).

Geographical range. Sundaland, S. Burma (Tenasserim), Philippines.

Habitat preference. In recent surveys singletons have been taken at 300m in lowland forest near Tawau in Sabah, and at 1618m on Bukit Retak in Brunei. Older material is from Mt. Dulit and Labuan I.