Phyllodes eyndhovii Vollenhoven
Phyllodes eyndhovii Vollenhoven, 1858, Tijdschr. Ent., 2: 86.
Phyllodes semilinea Walker, [1863] 1864, J. Linn. Soc. (Zool.), 7: 176.
Phyllodes fasciata Moore, 1867, Proc. zool. Soc. Lond., 1867: 69.
Phyllodes eyndhovii formosana Okano, 1959, Rep. Gakugei Fac. Iwate Univ., 15 (2): 38.
Phyllodes eyndhovii Vollenhoven; Holloway, 1976: 29; Kobes, 1985: 31.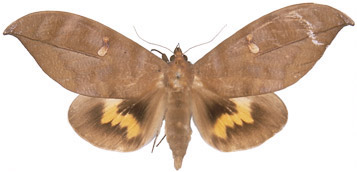 Phyllodes eyndhovii


Diagnosis. This is one of two species with a yellow band to the hindwing. It is smaller than the next, but the yellow band is more conspicuous, broader, and appears more enclosed in black because the wing grades paler to the margin.

Geographical range. Himalaya, W. China, Taiwan, Thailand (VK), Sundaland, Palawan.

Habitat preference. The only specimen taken in recent surveys is from an area of cultivation near forest at Kundasan, at 1050m on the south slopes of G. Kinabalu.

Biology. The larva has been recorded feeding on Acacia (Leguminosae) (Robinson et al., 2001) and the adult has been recorded piercing fruit in Thailand (Bänziger, 1982; Kuroko & Lewvanich, 1993).