Bastilla circumsignata Guenée comb. n.
Naxia circumsignata Guenée, 1852, Hist. nat. Insectes, Spec. gén. Lépid. 7: 255.
Dysgonia circumsignata Guenée; Kobes, 1992: 92.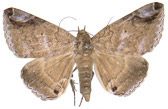 Bastilla circumsignata


Diagnosis. The forewings are a pale but rich brown with pale mauve-grey highlights, particularly along the distal margin (also on the hindwing, which has a darker brown spot at the inner tornal angle). All fasciae are fine, weak, irregular. The subapical costal mark is also pale grey on brown, enclosed in darker brown, and a thorn-like shape (or like a shark's dorsal fin).

Taxonomic note. Despite the somewhat Buzara-like facies, the male and female genitalia are typical of Bastilla.

Geographic range. N.E. Himalaya, Sumatra, Java, Borneo.

Habitat preference. Two specimens were taken in alluvial forest at 70-100m by the S. Melinau during the Mulu survey.