Mocis undata Fabricius
Noctua undata Fabricius, 1775, Syst. Ent.: 600.
Phalaena archesia Cramer, [1780] 1782, Uitlandsche Kapellen, 3: 145.
Phalaena virbia Cramer, [1780] 1782, Uitlandsche Kapellen, 3: 146.
Remigia gregalis Guenée, 1852, Hist. Nat. Insectes, Spec. gén. Lépid. 7: 320.
Ophisma velata Walker, [1863] 1864, J. Linn. Soc. (Zool.), 7: 180.
Remigia bifasciata Walker, 1865, List Specimens lepid. Insects Colln Br. Mus., 33: 1014.
Cauninda bifasciata Warren, 1913, Gross-Schmett. Erde, 3: 333.
Mocis uberia Wileman, 1923, Entomologist, 56: 190.
Mocis undata Fabricius; Holloway, 1976: 31; Kobes, 1985: 48.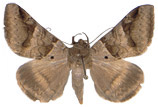 Mocis undata

| | |
| --- | --- |
| | |

Diagnosis. The ground colour is medium to pale brown as in Trigonodes and the next species, but with a more irregular pattern of fine dark lines and obliquely darker shading, the latter linear or slightly sinuous antemedially and more irregular, expanding from the dorsum to the costa, postmedially. In both fasciae the obliqueness unusually forms an acute angle basad at the dorsum, the angle of the antemedial sometimes containing a black spot in males. The intensity of this forewing pattern is very variable. Females are a redder brown and have the underside strongly tinged rufous and more conspicuously and darkly banded than the males. These bands on the underside are not oblique.

Geographical range. Afrotropical and Oriental Regions; records from Micronesia may be of this or the Australasian sister-species, M. trifasciata Stephens.

Habitat preference. Records are from areas of open habitat, cultivation and disturbed forest from the lowlands to 1200m.

Biology. The larva was illustrated by Sugi (1987). It is a slender semi-looper with the prolegs on A3 and, less so, on A4 reduced, though Moore (1884-1887) and Bell (MS) indicated that both are absent. It tapers slightly at both ends. It is greenish grey, sometimes with a yellowish tint, with fine longitudinal lineation that has paler dorsal and dorsolateral longitudinal zones much as in "Parallelia" arctotaenia (p. 58). An irregular and sparse series of white spots recurs just within the darker subdorsal zone (or band), with a larger, dark-edged and irregular white mark just at the edge of this zone with the dorsolateral pale zone towards the posterior of A1.

The descriptions by Bell (MS), Sevastopulo (1942) and the illustration by Moore (1884-1887) indicate that the larva is variable, but (Bell) can be whitish and finely lined and banded with orange and violet-brown longitudinally. The intersegmental membrane between A1 and A2 is black, appearing as a transverse band when the larva is humped at that point (see also Achaea janata on p. 55).

Another larva described by Bell was also white but with fine brown-orange lines dorsally followed by a broad greyish band that extends to the dorsolateral setae and is spotted profusely with black that sometimes coalesces into four parallel lines. Below this grey band there are three orange lines, sometimes broken into spots, in the region of the spiracles, below which is a broad yellow band. The ventral surface is fuscous to black. On A1 there can be a U-shaped mark sublaterally, filled with black. Moore illustrated a larva that was finely striped yellow and brown longitudinally.

Sevastopulo (1942) described the egg as spherical, silvery green, vertically ribbed. The hatchling is brown, slender and turns green after it has fed. The halfgrown larva has a whitish head with brown stripes. The body is greenish grey with nine longitudinal purple lines; there is a subdorsal black dot on A1. Pupation is in a cell formed from a rolled leaf lined thinly with silk. The pupa has a powdery white bloom.

Sugi stated the species feeds on various legumes (Cytisus, Desmodium and Wisteria were listed by Miyata (1983)) and grasses. Robinson et al. (2001) recorded mostly Leguminosae (Arachis, Butea, Cajanus, Calopogonium, Crotalaria, Derris, Desmodium, Glycine, Indigofera, Mucuna, Phaseolus, Pueraria, Rhynchosia, Tephrosia, Vigna), but also Shorea (Dipterocarpaceae), Hevea (Euphorbiaceae), Gossypium (Malvaceae), Nephelium (Sapindaceae) and Solanum (Solanaceae).

Comstock (1966) illustrated a very similar larvae for the Australasian sisterspecies, trifasciata, which pupates in a fragile cocoon within a rolled edge of a leaf. The pupa has a slight powdery blue bloom. The host plants are also Gramineae and Leguminosae (Comstock; Common, 1990).

The adult is known as a fruit piercer in Thailand (Bänziger, 1982; Kuroko & Lewvanich, 1993).