Pindara illibata Fabricius
Noctua illibata Fabricius, 1775, Syst. Ent.: 592.
Hemeroblemma peropaca Hübner, 1825, Zuträge Samml. exot. Schmett., 3: 33.
Ophisma laetabilis Guenée, 1852, Hist. Nat. Insectes, Spec. gén. Lépid. 7: 241.
Pindara colorata Warren, 1913, Gross-Schmett. Erde, 3: 328.
Pindara illibata Fabricius; Holloway, 1976: 30; Kobes, 1985: 41.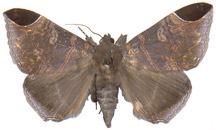 Pindara illibata

| | |
| --- | --- |
| | |

Diagnosis. Both wings are a purplish brown-grey. The forewing has irregular fasciae and a reniform stigma that are highlighted with paler brown, and there is a deep, lens-shaped, white-edged, dark brown trapezoidal mark subapically at the costa.

Geographical range. Oriental Region.

Habitat preference. Usually only recorded in singletons, the species occurs from the lowlands to 1930m, mostly in forested localities.

Biology. The larva in Okinawa (Japan) has been illustrated by Takeuchi & Ohbayashi (2000), Tominaga (2001) and by Tanahara & Tanahara (2000). The prolegs of A3 are strongly reduced, those of A4 only slightly so. There is a transverse ridge on A8, as seen in Achaea, Bastilla, Ophiusa and a few other ophiusines, that supports subdorsal protuberances bearing the primary setae. The whole body is marked longitudinally with a dense array of dark brown lines on a pale brown to yellow ground, though the strength of this lineation is considerably reduced ventral to the spiracles. The tubercles in the ridge of A8 are transversely pale. The exterior of the abdominal prolegs has a more reticulate, spotty pattern.

The host plant was Bischofia (Euphorbiaceae). Tominaga (2001) also recorded Elaeocarpus (Elaeocarpaceae).

Bänziger (1982) recorded the adult as piercing fruit in Thailand.