Mecodina albodentata Swinhoe
Oglasa albodentata Swinhoe, 1895, Ann. Mag. nat. Hist. (6) 15: 13.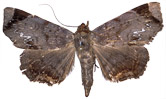 Mecodina albodentata


Diagnosis. See the previous species.

Geographical range. Nepal, N.E. Himalaya, Taiwan, Ryukyu Is., Vietnam (Zilli, 1999), Thailand (VK), Peninsular Malaysia, Singapore, Sumatra (HS / ZSM), Borneo, Sulawesi.

Habitat preference. Most specimens seen are from lowland forest (including heath forest and that on limestone), where the species is infrequent but not uncommon. Single specimens have been taken at 900m in lower montane forest on the limestone G. Api and at 1618m on Bukit Retak in Brunei.