Mecodina leucosticta Hampson
Mecodina leucosticta Hampson, 1926, Descr. Gen. Spec. Noctuinae: 489.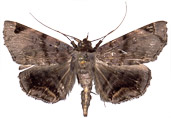 Mecodina leucosticta


Diagnosis. This species and albodentata Swinhoe have very similar facies, particularly the diffuse, tapered bar from the costal triangle of the forewing submarginal; this bar extends obliquely to meet the distal margin at its central angle. In leucosticta the rest of the forewing submarginal is obscure apart from a few pale yellowish white flecks (not always present), whereas in albodentata it is marked by a very pale blue zig-zag. The paler zone of the hindwing margin is somewhat deeper in leucosticta.

Geographical range. Peninsular Malaysia, Sumatra, Borneo, Sulawesi.

Habitat preference. More uncommon than albodentata, leucosticta is also a species of lowland forest, with no record above 300m. Two specimens are from dry heath forest on sand near Telisai in Brunei, and another from an area of secondary forest with cultivation at Lamunin.