Avitta flavicilia Holloway
Avitta flavicilia Holloway, 1976: 38.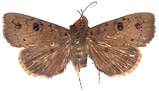 Avitta flavicilia


Diagnosis. See the previous species; the fasciation around the reniform is usually strongest at the costa rather than adjacent to the reniform.

Geographical range. Sundaland.

Habitat preference. Only ten Bornean specimens have been recorded; a female from the understorey of primary forest at 170m near the Danum Valley Field Centre; the holotype from 1200m (Bundu Tuhan) on G. Kinabalu; seven specimens from 1000m on G. Mulu; a male from 1618m on Bukit Retak in Brunei. All these except the first are lower montane forest localities but that on Kinabalu is disturbed, with areas of cultivation. Material from Java is from the lowlands.