Platyja minutipuncta Swinhoe
Platyja minutipuncta Swinhoe, 1901, Ann. Mag. nat. Hist. (7), 7: 497.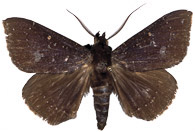 Platyja minutipuncta


Diagnosis. The wings are a much darker brown than in umminia, with a light dark blue tone. The forewings are much narrower and not falcate. The postmedial loop has its two apical sections filled with slightly paler, greyer brown, though this can sometimes be obscure. The fasciae are picked out faintly with pale dots, as is the reniform.

Taxonomic note. P. exequialis Lucas (Queensland, New Guinea; see Nielsen et al. (1996) for new synonymy) is a very similar species, though the male genitalia (slide 6011) are generally more robust.

Geographical range. N.E. Himalaya, Peninsular Malaysia, Sumatra, Borneo, Sulawesi.

Habitat preference. Records are mostly from montane forest, with five specimens taken at 1000m on G. Mulu, and the same number from 1775m on Bukit Monkobo in Sabah. Two were recorded at 1618m on Bukit Retak in Brunei, and a single specimen was taken in lowland forest (30-60m) at Labi.