Anisoneura salebrosa Guenée
Anisoneura salebrosa Guenée, 1852, Hist. Nat. Insectes, Spec. gén. Lépid. 7: 161.
Anisoneura obscurata Pagenstecher, 1896, Jb. nassau. Ver. Naturk., 49: 160.
Anisoneura salebrosa Guenée; Kobes, 1985: 77.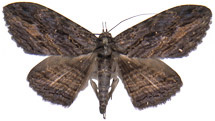 Anisoneura salebrosa


Diagnosis. See the previous species. There is usually a paler brown patch at the centre of the forewing postmedial.

Geographical range. N.E. Himalaya, Taiwan, Thailand (VK), Vietnam (Zilli, 1999), Sumatra, Peninsular Malaysia, Borneo, Sulawesi.

Habitat preference. The species is frequent in lowland forest, including heath forest; only one record above 400m has been located, from 1618m on Bukit Retak in Brunei.