Claterna cydonia Cramer
Phalaena cydonia Cramer, [1775] 1779, Uitlandsche Kapellen, 1: 34.
Focilla submemorans Walker, 1858, List Specimens lepid. Insects Colln Br. Mus., 15: 1533.
Claterna exagens Walker, 1858, List Specimens lepid. Insects Colln Br. Mus., 15: 1543.
Claterna affinis Rothschild, [1915] 1916, Rep. B.O.U. exp., 2 (No. 15): 58.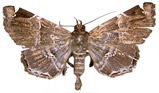 Claterna cydonia

| | |
| --- | --- |
| | |


Diagnosis. There is slight sexual dimorphism in forewing shape, the apex in males being more produced, with the distal margin slightly sinuous (slightly angled in females). The medium grey ground colour is tinged brownish on the forewings and more mauve on the hindwings. The facies is similar to that of Mecodina in the development of a dark brown costal triangle in association with the forewing submarginal, but the fasciation is otherwise whitish rather than darker.

Geographical range. Indian Subregion to New Guinea.

Habitat preference. This is an infrequent species of lowland forest, with no records above 500m except for a singleton from stunted hill forest at 1200m on Bukit Monkobo in Sabah. During the Mulu survey it was commoner in alluvial forests and it was well represented in logged forest areas near the Danum Valley Field Centre as well as in primary forest, more often in understorey samples (S.J. Willott, unpublished data). Chey (1994) recorded it in some frequency from lowland softwood plantations.

Biology. The species has been reared from Mussaenda (Rubiaceae) in New Guinea (Miller et al., unpublished).