Angonyx testacea Walker
Perigonia testacea Walker, 1856, List Specimens lepid. Insects Colln. Br. Mus., 8: 102.
Angonyx testacea Walker; Rothschild & Jordan, 1903: 544.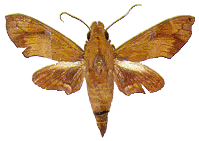 Angonyx testacea


(.90 natural size)

Diagnosis. See generic description.

Geographical range. Indo-Australian tropics to Queensland and Solomons.

Habitat preference. The species has been recorded infrequently at altitudes from the lowlands to 2110m.

Biology. The larva was described by Bell & Scott (1937). It resembles a Marumba larva in shape, the horn long and straight. The body is bright grass green, dotted darker. Above the dorsolateral line it is tinged glaucous, and tinged yellowish below it. There is a fine dark green dorsal stripe and a pale vinous brown dorsolateral with yellow edging below that broadens towards the horn; the horn is dull leaden colour with a yellowish green tip.

The host-plant recorded was Strychnos (Loganiaceae).