Triorbis aureovitta Hampson
Triorbis aureovitta Hampson, 1902, J. Bombay nat. Hist. Soc., 14: 209.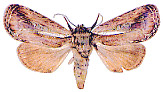 Triorbis aureovitta


Diagnosis. The wings are rich brown, the forewings bisected over the basal half by a pale golden streak; their apex is also bisected by a diffuse, darker brown shade that extends from the distal end of the golden streak.

Geographical range. N.E. Himalaya, Sundaland, Palawan (ZMUC), Sulawesi.

Habitat preference. The species is uncommon in lowland forest, and has been recorded from as high as 1000m.

Biology. Unpublished FRIM records state Garcinia (Guttiferae) is a host-plant.