Xenochroa diluta Warren stat. rev.
Carea diluta Warren, 1912, Novit. Zool., 19: 40.
Xenochroa latera Kobes, 1997: 124, syn. n.
Carea erectilinea Prout sensu Holloway, 1976: 27.



Xenochroa diluta
(G. Kinabalu)




Diagnosis and taxonomic note. The series of montane species from here to mediogrisea Warren is difficult to elucidate as they have very similar male genitalia and variable facies, usually with white cilia at the tornus. The identities and synonymies presented here, though based on all type material, dissected with vesicas everted, must still be considered tentative and will probably only be fully tested by molecular data. The feature of a peak to each component of the transtilla noted by Holloway (1976), though indicating a subgroup within the genus, can be distorted in preparing slides and is therefore now not considered as helpful as originally thought. X. diluta is one of the larger species, with a dark blackish red forewing, well separated, if somewhat obscure, transverse fasciae and, in some specimens, an oblique darker shadow in the centre of the medial area. It is the only species reliably distinguished on male genitalia, as the bundle of cornuti is longer than in the other species, albeit similarly placed laterally on the vesica. This feature serves to separate diluta from synonymy with notodontina Felder (Poole, 1989) and indicates conspecificity, along with facies similarity, with latera. A G. Mulu specimen (Fig 339), noted below, has somewhat shorter and more curved spines than the Kinabalu specimen and typical diluta, and could be an aberrant X. mediogrisea Warren.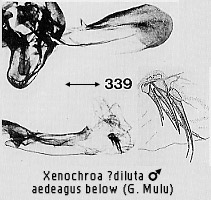 Geographical range. Peninsular Malaysia, Sumatra, Borneo.

Habitat preference. A specimen was taken at 1930m on G. Kinabalu and two more at 1790m on G. Mulu.