Aiteta brooksi Holloway
Aiteta brooksi Holloway, 1976: 22.
Aiteta brooksi Holloway; Kobes, 1997: 165.




Aiteta brooksi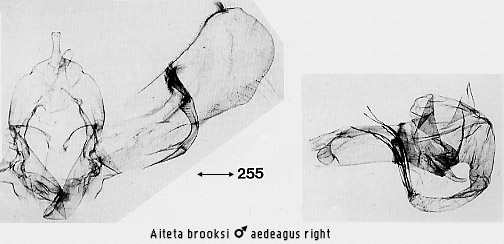 Diagnosis. The forewings are much darker than in musculina, an even grey that grades slightly paler at the apex. The fasciae are straight, oblique, more or less parallel, except the postmedial is distinctly angled basad at one-third from the costa; it has a diffusely darker 'shadow' band adjacent to it distally over its anterior two-thirds.

Geographical range. Burma, Borneo, Sumatra, Java, ?Andamans.

Habitat preference. The species is uncommon, most material taken in lowland forest, especially alluvial forest, during the Mulu survey. However, one specimen (a paratype) has been taken at 1930m on G. Kinabalu.

Biology. A species tentatively identified as brooksi in the Andamans was reared (unpublished IIE records) from Terminalia (Combretaceae).