Polypogon
minoraloides
sp. n.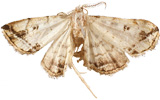 Polypogon minoraloides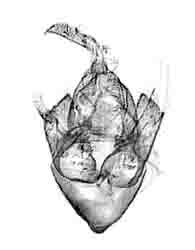 6mm. This species is smaller (cf. 7mm.), with a paler creamy ground colour than Polypogon minoralis Walker (Sri Lanka) comb. n., but otherwise the two species are very similar in the bipectinate male antennae, the dark markings on the wings and in the general form of the male genitalia. The fasciation in minoraloides is dark brown rather than rich brown edged with rufous, with more suffusion between the fasciae as seen in minoralis. In the forewing of both species there is an angled postmedial close to a straight submarginal (except for curvature basad near the costa) that has on its distal side a beading of white semicircular bounded by the darker colour. There is a conspicuous reniform stigma that is more broadly defined by dark across its central part. The hindwing has a submarginal similar to that of the forewing, but it is obtusely angled in the manner typical of many Polypogon species. The two species may be best placed in this complex, and are definitely misplaced in Chusaris Walker, the current genus of minoralis (Poole, 1989). This is also indicated by the male foreleg which is sheathed, with the tarsus reduced to one segment that is three-quarters of the length of the sheath. In the male abdomen, the eighth segment is of the framed corematous type, but the tergite has a slender central thickening and splayed apodemes, again not of the typical Chusaris type but more as in the Polypogon group. The genitalia of both species have the valves short and quadrilateral, the distal margin being excavate in minoralis with the distal corners produced into acute processes. The aedeagus expands gently from base to apex, with a small spine within the apical part.

Holotype

. SARAWAK: Gunong Mulu Nat. Park, R.G.S. Exped. 1977-8 (J.D. Holloway et al.), Site 25, April, G. Api, 900m, 427550, lower montane forest, BM noctuid slide 20013.

Geographical range. Borneo.

Habitat preference. The only specimen is from lower montane forest on limestone.