Avatha tepescens Walker comb. n.
Athyrma tepescens Walker, 1858, List Specimens lepid. Insects Colln Br. Mus., 14: 1417.
Athyrma tepescens Walker; Holloway, 1976: 34.
Pseudathyrma tepescens Walker; Kobes, 1985: 54.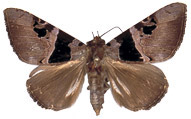 Avatha tepescens


Diagnosis. The next four species have the antemedial black area extending across the wing to the costa, but in tepescens and its close relative described below this antemedial band never has any whitish edging on its distal side, and the postmedial hieroglyph is not hook-like as in bubo but more bolt-shaped with the largest process directed distad. See the next species for distinction of the two.

Geographical range. Sundaland.

Habitat preference. Most specimens seen are from lowland forest, though one was taken at 1465m on Bukit Retak in Brunei.