"Anomis" discisigna Hampson comb. n.
Churia discisigna Hampson, 1894, Fauna Br. India, Moths, 2: 418.
Ceromacra ekeikei Bethune-Baker, 1906, Novit zool. 13: 284, syn. n.
Pantydia discisigna Hampson; Poole, 1989: 766.
Avitta ekeikei Bethune-Baker; Poole, 1989: 151.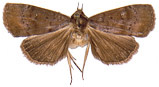 "Anomis" discisigna

| | |
| --- | --- |
| | |

Diagnosis. The species could be confused with members of the Avitta Walker group, but, on the forewing, the reniform is narrowly defined with dark brown that encloses small white spots at its anterior and posterior. Distal to it is a broad, diffusely darker fascia and a fine, blackish, lunulate one, both fasciae approximately sigmoid.

Taxonomic note. The species has been placed in Anomis provisionally as it definitely belongs to the Scoliopterygini, having many of the diagnostic features: a broadly bordered cleft to the basal abdominal sternite; strong coremata to simple valves. However, the saccus is not distinctly excavate. The eighth sternite is trapezoidal with a weak central corema and a pair of prominent apodemes. The tergite is reduced to a very narrow, paddle-like sclerite, the blade of the paddle at the posterior end. Females have the ostium associated with the eighth segment.

The apophyses of the latter are short. The ductus is sclerotised, moderate, narrow and slightly tapering. The corpus bursae has a narrow neck, slightly coiled where it joins the ductus, with the ductus seminalis arising just distal to the junction. Distally, the bursa is ovate with a distinct signum centrally, consisting of two transverse, narrow wings of scobination extending out on either side of a slight groove. The rest of the bursa is generally slightly rugose to scobinate, with corrugations. These corrugations are in a rhomboidal arrangement around the signum.

Geographical range. N.E. Himalaya, Borneo, New Guinea.

Habitat preference. All three Bornean specimens seen were taken during the Mulu survey on the limestone G. Api: two at 250m in dipterocarp forest; one at 900m in lower montane forest.