Lopharthrum comprimens Walker
Amphigonia comprimens Walker, 1858, List Specimens lepid. Insects Colln Br. Mus., 15: 1540.
Eriocera cluysenaeri Heylaerts, 1888, Annls Soc. ent. Belg., 33: lxi.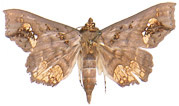 Lopharthrum comprimens


Diagnosis. See the generic description. The somewhat reticulate, rufous, cream and white patches on the diffusely more darkly fasciated grey ground are distinctive in combination with the general wing shape with angled distal margins.

Geographical range. Indian Subregion to New Guinea and Solomons.

Habitat preference. The species is rare. Three specimens were recorded in lower montane forest at 1000m on G. Mulu, but the only two other specimens are from the coast at Kota Kinabalu in Sabah and from 15m in dry heath forest on sand near Telisai in Brunei.