Pangrapta paragona sp. n.



,


17-19mm. This species is externally very similar to metagona, except the forewing postmedial is more clearly doubled, the external dark line always present and stronger, and more acutely angled. The underside is more variegated in metagona, particularly in the paler, yellower zone basal to the postmedials, which are in a relatively more basal position than in paragona. Within this yellower area of metagona, the forewing stigmata are more conspicuous. The reduction of the exterior components of the postmedials is also seen in P. griseistriga Bethune-Baker stat. rev. (New Guinea), except this is a greener brown with the fasciae more conspicuously darker. The underside of griseistriga is more as in paragona. However, the male genitalia of metagona and griseistriga indicate a close relationship, the species sharing a slightly falcate valve apex (rounded in paragona), a less curved saccular spine to the valve and absence of the long more distal one of paragona. The aedeagus of both has more robust reversed spining subapically, though these spines are diagnostically longer and apically rounded in metagona. The single cornutus in the vesica of both griseistriga and metagona is longer than in paragona. The female genitalia of both species have a densely setose eighth segment, but the seventh sternite of paragona has a quadrate process posteriorly that is not present in metagona. The latter has a shorter, more sclerotised, less fluted distal two-thirds of the ductus bursae.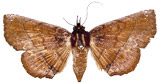 Pangrapta paragona


(paratype)

Holotype

. BRUNEI: 300m, Ulu Temburong, rainforest, 9.2.80 (Lt Col. M.G. Allen); BM noctuid slide 19250.

Paratypes: 1

(slide 19249) Danum Valley, 5°01' N, 116°47' E, 26.ix, 1987, 100m (A.H. Kirk-Spriggs) roadside, secondary forest; 1

B.N. BORNEO, Kretam, 21.xi.1950-i.1951 (J.D.H. Hedley); 1

SARAWAK: Gunong Mulu Nat. Park, R.G.S. Exped. 1977-8 (J.D.Holloway et al.), Site 7, January, Long Pala (Base), 50m, 324450, alluvial / secondary forest; 1

SARAWAK as previous but Site 8, February, Camp 1, Mulu, 150m. 385470, mixed dipt. for.; 1

BRUNEI: 30-60m Labi, lowland forest and secondary veg. 10.9.79 (Lt Col. M.G. Allen).

Geographical range. Sundaland, Thailand (VK), N.E. Himalaya, Philippines.

Habitat preference. The species is infrequent in the lowlands, both in forest and disturbed areas.