Bastilla absentimacula Guenée
Naxia absentimacula Guenée, 1852, Hist. Nat. Insectes, Spec. gén. Lépid. 7: 255.
Dysgonia absentimacula Guenée; Kobes, 1992: 92.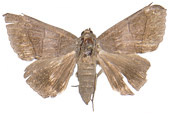 Bastilla absentimacula


Diagnosis. The forewing is much more uniform in tone than in the previous three species and generally a duller violet grey-brown. The zone between the medial and postmedial is only slightly darker and rather narrow, the peak in the postmedial at M1 being rather obtuse. The zone between the medial and antemedial is slightly but irregularly paler and greyer.

Geographical range. Indian Subregion to Taiwan and New Guinea.

Habitat preference. Only one specimen has been recorded in recent surveys, from alluvial forest at 70m near the foot of G. Mulu.

Biology. The larva has been recorded (Robinson et al., 2001) as feeding on Phyllanthus (Euphorbiaceae).