Oxyodes scrobiculata Fabricius
Noctua scrobiculata Fabricius, 1775, Syst. Ent.: 592.
Noctua vittata Fabricius, 1775, Syst Ent.: 600.
Phalaena clytia Stoll, 1782, Uitlandsche Kapellen, 4: 238.
Oxyodes ochreata Rothschild, [1915] 1916, Rep. B.O.U. Exp., 2 (15): 61.
Oxyodes ochreata samoana Tams, 1935, Insects Samoa, 3 (4): 229.
Oxyodes ochreata tanymekes Tams, 1935, Insects Samoa, 3 (4): 229.
Oxyodes ochreata novaehebridensis Viette, 1951, Annls Soc. ent. Fr., 118: 48.
Oxyodes scrobiculata Fabricius; Holloway, 1976: 40.
Oxyodes scrobiculata obscurior Holloway, 1979: 511.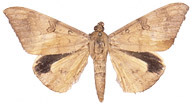 Oxyodes scrobiculata

| | |
| --- | --- |
| | |

Diagnosis. The facies of the hindwing, with the broadly black costal zone, pale creamy fawn basal zone and fawn border, is highly distinctive.

Geographical range. Indo-Australian tropics east to Guam, Queensland, New Caledonia, Fiji, Samoa and Tonga; see Holloway (1979) for discussion of more easterly subspecies.

Habitat preference. The species can be abundant in a variety of habitats up to about 2000m, but is perhaps more characteristic of disturbed and cultivated habitats than forest. Chey (1994) found it to be common in secondary forest and softwood plantations in the lowlands of Sabah. It showed a preference for canopy flight in the vicinity of the Danum Valley Field Centre (S.J. Willott data).

Biology. The mature larva was described by Bell (MS) and illustrated by Kuroko & Lewvanich (1993). The illustrated larva is slender, tapering slightly at each end, the prolegs with expanded plantae giving them a T-shape. The abdominal pairs are reduced slightly towards the anterior, and the anal ones are usually held splayed out behind. The colour is a pale emerald green with fine, pale yellow dorsolateral lines and three fainter, broken white ones ventral to these, two above and one below the line of spiracles. Bell's description referred to a dull orange head and a light watery green body with an orange tint. He also noted a broad black dorsal line centred thinly with grey.

The larvae can occur in such numbers as to cause serious defoliation of the host trees, and they also feed on the flowers. Pupation is in a shelter formed by the larva cutting out a sausage-shaped flap from one edge of a leaf and folding it over the rest. The pupa has a sparse white powdery bloom (Bell).

The host plants recorded (Robinson et al., 2001) are Aglaia (Meliaceae), Dimocarpus, Litchi and Nephelium (Sapindaceae).

The adult has been recorded as a fruit piercer in Thailand (Bänziger, 1982; Kuroko & Lewvanich, 1993).