Goniophila excavata Swinhoe
Cosmophila excavata Swinhoe, 1905, Ann. Mag. nat. Hist. (7), 15: 158.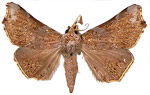 Goniophila excavata


Diagnosis. See the generic description. The shape and red and pinkish grey colour of the wings cannot be confused with those of other species. The male has a semicircular flap at the base of the forewing costa on the underside that covers a basal tuft of fine white hairs.

Geographical range. Sundaland.

Habitat preference. This is a lowland species that was found to be particularly frequent in coastal forest and disturbed habitat at Seria in Brunei. It has also been taken singly inland in lowland forest (Ulu Belait and west of the Melinau Gorge) and in stunted hill forest at 900m on Bukit Monkobo in Sabah.