Undatavitta shayleenae sp. n.



20mm-21mm. The forewing patterning is typical of the genus, with three clear subbasal to antemedial fasciae, then a broader band of ground colour, a relatively broad medial fascia; the reniform follows on a transverse dash, with three postmedial fasciae just outside it, the most distal with brown grading away towards a more punctate submarginal. This facies is very similar to that of aroa; U. insignans Hampson comb. n. (N.E. Himalaya) has the fasciation more oblique, particularly postmedially, where the fasciae curve round strongly basad as they approach the costa. The male genitalia also indicate a closer relationship to aroa, with both species having an extremely long cornutus-bearing diverticulum to the aedeagus vesica, and a rod-like (rather than curved, tapering) juxta process. The genitalia of the two species differs in the shape of the uncus, where aroa has a high crest consisting of a pair of coarsely spined, almost circular lobes, rather than an elongate densely hairy one as in shayleenae. There is also a prominent pair of processes associated with the dorsal part of the tegumen in aroa, lacking in shayleenae. The aedeagus is flexed subbasally in shayleenae rather than straight.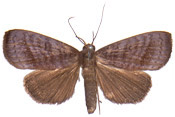 Undatavitta shayleenae


Holotype

. BRUNEI: 30-60m, Labi, lowland forest and secondary veg., 11.9.79 (Lt. Col. M.G. Allen), BM noctuid slide 18279 [head missing].

Paratypes: 1

BRUNEI: 1670m, Bukit Pagon, montane forest, Feb 1982 (Allen & Harman Harman Harman Harman); 1

SARAWAK, Borneo.

Geographical range. Borneo, Sumatra.

Habitat preference. The two specimens taken in recent surveys are from lowland and upper montane forests.