Hyperlopha flavipennis Holloway
Hyperlopha flavipennis Holloway, 1976: 37.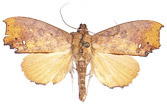 Hyperlopha flavipennis


Diagnosis. The dull yellow colour combined with shape typical of the genus, subtornal white marks and general purplish shading of the forewing render this species unmistakable.

Geographical range. Borneo, Peninsular Malaysia.

Habitat preference. Seven of the nine specimens recorded from Borneo have been from lowland forest, but the other two were from 1000m on G. Mulu and (the holotype) 1930m on G. Kinabalu. Also, Martini & Thöny (1993) recorded it from 950m on G. Trus Madi.