Hexamitoptera lawinda Pagenstecher
Poeciloptera lawinda Pagenstecher, 1885, Jb. nassau. Ver. Naturk., 38: 35.
Hexamitoptera lawinda Pagenstecher; Kobes, 1985: 28.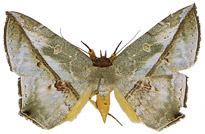 Hexamitoptera lawinda


Diagnosis. The facies is similar to that of Hypopyra species but is more of a silvery grey. The angled margin of the hindwing and its yellow dorsal fringe associated with the yellow abdomen are distinctive.

Geographical range. Nias, Sumatra, Peninsular Malaysia, Borneo.

Habitat preference. The only Bornean specimens seen have been taken in recent surveys, all in lowland dipterocarp forest: at 150m on G. Mulu; at 60m in the Ulu Belait and 300m in the Ulu Temburong of Brunei; at 170m near the Danum Valley Field Centre in Sabah.