Ercheia pulchrivena Walker
Achaea pulchrivena Walker, 1864, J. Linn. Soc. (Zool.), 7: 182.
Ercheia hollowayi Kobes, 1985: 37, syn. n.


| | | |
| --- | --- | --- |
| | | |
| Ercheia pulchrivena | Ercheia pulchrivena | Ercheia pulchrivena |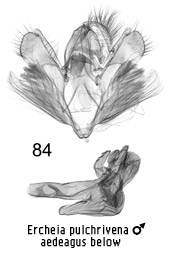 Diagnosis. This is a variable species in the extent to which the fasciae and medial area are irrorated and blocked in with white. One specimen is similar to a variant of cyllaria in having a brown and fawn variegated border along the dorsum and distal margin of the forewing, with the rest uniform dark brown. Constant features include the much more angular nature of the forewing postmedial and the very reduced white spotting of the hindwing. The forewing submarginal is more irregular over its anterior half and distinctly concave distad over the posterior part.

Taxonomic note. Examination of type material (UM Oxford) revealed that the concept of pulchrivena in most literature is erroneous (see above) and that hollowayi and pulchrivena are conspecific.

Geographical range. Sumatra, Borneo.

Habitat preference. Eight specimens have been taken in a variety of mostly forested habitats from the coast to 300m in Brunei, one from 1618m on Bukit Retak and one from 1790m on G. Mulu.