Focillistis sita Felder & Rogenhofer
Focilla sita Felder & Rogenhofer, 1874, Reise öst. Fregatte Novara, pl. 120 fig. 40: 499.
Zethes salsoma Swinhoe, 1902, Ann. Mag. nat. Hist. (7), 10: 499.
Hyposemansis xyrina Kobes, 1985, Heterocera Sumatrana 2: 53, syn. n.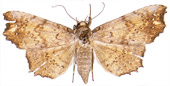 Focillistis sita


Diagnosis. The wings are rather elongate with irregular margins, that of the forewing angled, slightly concave on each side of the angle, resembling somewhat species of Lacera Guenée. However, the facies is more uniform than in Lacera, a pale brown with obscure, finely zig-zag fasciation, and characteristic small white lunules associated with the forewing submarginal. The underside is similar to the upperside.

Geographical range. Sulawesi, Borneo, Sumatra, Nias.

Habitat preference. Only four specimens have been taken in recent surveys, one in coastal forest and open habitat at Seria in Brunei and three (Chey, 1994) in softwood plantation and secondary forest at Brumas in the lowlands of Sabah. There are older specimens without precise data from near Pontianak in Kalimantan, Brunei, G. Marapok and (type material of salsoma) the Kinabalu area. Sumatran localities are in the lowlands but material seen from N. Sulawesi is from the vicinity of 1000m.