Bematha extensa Walker
Bematha extensa Walker, 1865, List Specimens lepid. Insects Colln Br. Mus., 33: 1095.
Bematha extensa Walker; Holloway, 1976: 39.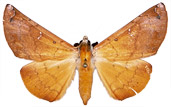 Bematha extensa


Diagnosis. The yellowish orange facies is distinctive, the forewings with a purplish tinge to this and a white interior to the brown-edged orbicular and very elongate reniform. The wings are traversed by several very fine brown fasciae.

Taxonomic note. Material from Sulawesi eastwards has the postmedials linear rather than irregular and probably represents a separate species.

Geographical range. N.E. Himalaya, Vietnam (Zilli, 1999), Thailand (VK), Sundaland, Philippines; Sulawesi, New Guinea.

Habitat preference. The species is frequent in lowland forest, including heath forest, and has also been recorded more rarely in lower montane forest (900-1000m).