Eudocima [Othreis] mionopastea Hampson
Othreis mionopastea Hampson, 1926, Descr. Gen. Spec. Noctuinae, p. 335.
Othreis mionopastea Hampson; Holloway, 1976: 36.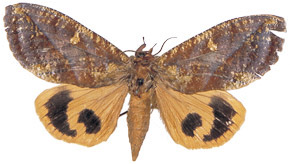 Eudocima mionopastea


Diagnosis. The hindwings are similar to those of sikhimensis Butler (see above) but the forewings are browner as in aurantia, though diagnostically blotched and flecked with leaf-green apically, tornally, over the reniform and subbasally.

Geographical range. Peninsular Malaysia, Borneo, Sumatra (Zilli & Hogenes, 2002).

Habitat preference. The species is rare, with only six records from Borneo: at 300m in forest of the Ulu Temburong in Brunei; at 1110m, 1620m, 1930m and 2110m on G. Kinabalu.