Mudaria turbata Walker comb. n.
Eurois turbata Walker, 1858, List Specimens lepid. Insects Colln. Br. Mus., 15: 1720.
Plagideicta turbata Walker; Warren, 1914, Gross-Schmett. Erde., 11: 340; Holloway, 1982: 230.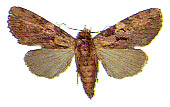 Mudaria turbata


Diagnosis. The forewings are dark blackish brown, the leprous patches darkened, broken, not clearly defined; there is a black longitudinal streak distal to the basal patch. Only females are known.

Geographical range. N.E. Himalaya, Burma, Borneo.

Habitat preference. The only Bornean specimen seen is from Samarinda, a lowland locality in S.E. Kalimantan.