Thosea vetusta Walker
Nyssia vetusta Walker, 1862, J. Linn. Soc. Lond. (Zool.) 6: 144.
Nyssia biguttata Walker, 1862, Ibid 6: 145.
Thosea vetusta Walker; Hering, 1931: 713, Holloway, 1976: 91, Barlow, 1982: 38.


| | | |
| --- | --- | --- |
| Thosea vetusta | Thosea vetusta | |

Diagnosis. This species is sexually dimorphic as illustrated. The postmedial is more oblique than in other species and marks a greater contrast between the ground colour on each side. The genitalia, illustrated by Holloway (1976), have a lobe subcostally on the valve and the sacculus is stepped out from the valve in an angular manner.

Geographical range. Sundaland, Sulawesi.

Habitat preference. The species has been recorded mainly in the lowlands but one was taken at over 1000m on G. Kinabalu.

Biology. The larva has been illustrated by Wood (1968) and in above. In shape and ornamentation it is typical of the genus. It is pale blue-green with a narrow yellow dorsal stripe that is broken, broader in the two posterior fragments. The breaks are at one third from the front and over a slightly longer interval, at two fifths. The dorsal yellow band is edged laterally by fluctuating thin dark blue lines, replaced by deep orange centrally on the middle, rather oval fragment. Some variants have the dorsal yellow line unbroken but still edged with blue dashes and with orange lenses centrally. (M.J.W. Cock, photo). It has been reared from oil palm (Elaeis), Musa (Musaceae), tea (Camellia; Theaceae) and Acorus (Araceae) (Wood; Kalshoven, 1981 ; CIE records).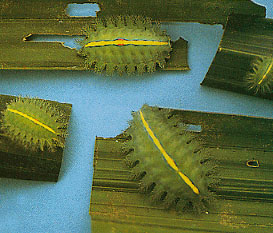 Thosea vetusta on oil palm in Peninsular Malaysia (M.J.W. Cock)