Cossus Fabricius
Type species: cossus Linnaeus
Synonyms: Lyonetus Rafinesque (unjustified replacement name); Brachylia Felder (type species terebroides Felder); Trypanus Rambur (type species cossus Linnaeus); Isocossus Roepke (type species vandeldeni: Roepke) syn. n. (see p. 00).

The venation of both wings is illustrated in Fig. 3, though stated by Roepke (1957) to be variable.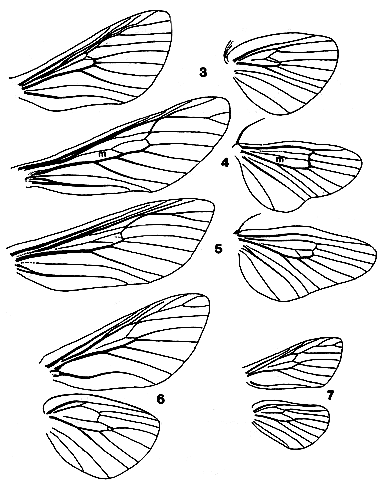 The genus is perhaps best defined by the structure of the male genitalia. The valve has a basal spine and ventral to that a less robust process. These are fused with the juxta. The uncus is broad, simple, and the gnathus terminates in a pair of finely setose lobes termed the bulla by Roepke.

The female antennae are usually filiform but the male antennae are, in the Bornean fauna, of four types:

(1) Filiform: kinabaluensis, verbeeki, chloratoides.
(2) Uniserrate/unipectinate: chloratus, javanus, speideli.
(3) Strongly bipectinate over basal third only: cinereus.
(4) Bipectinate at least basally and usually throughout though tapering evenly away in width towards the apex: vandeldeni, rufipecten, cruciatus, retak, telisai, seria.

Cossus cossus itself is unipectinate, each pectination being like a transverse paddle blade.

Mainland Asian taxa of type (1) are rufidorsa Hampson and fuscibasis Hampson, both with the antennae flattened as in verbeeki, and of type (4) are cashmirensis Moore and cadambae Moore. C. acronyctoides Moore is of type (2).

The Sundanian Cossus fauna appears to be of higher diversity than that of the Indian subregion, though this diversity drops off sharply at Wallace's Line with only one species in each of the Philippines and Sulawesi The status of Australasian species placed in Cossus requires examination.