Catada

vagalis

Walker


Bocana vagalis Walker, [1859] 1858, List Specimens lepid. Insects Colln Br. Mus., 16: 172.
Catada glomeralis Walker, [1859] 1858, List Specimens lepid. Insects Colln Br. Mus., 16: 210.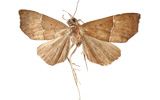 Catada vagalis


Diagnosis. This and the next two species have medium to dark brown forewings with fine, transverse white fasciae centrally. The hindwings are a similar shade of brown but not so rich in tone. The white fascia in vagalis encloses a small section of ground colour in the discal area, and the insect in Borneo is generally paler than the next two and than typical vagalis from the Indian Subregion. The male genitalia have the valves apically bifid as in most congeners.

Geographical range. Indian Subregion, Peninsular Malaysia, Borneo, Philippines.

Habitat preference. In recent surveys two specimens have been taken in montane forest and scrub on the limestone G. Api, at 500m and 1700m. Older material seen is from localities at lower elevations: Pulo Laut and Kuching.

Biology. The larva was reared by Bell (MS) in India. It is spindle-shaped, with the prolegs on A3 smallest, those on A4 reduced. The head and body are dark purplish to black, with a jet-black dorsal line flanked by whitish suffusion, particularly over the middle segments. The ventrum is olive green. The segments are well defined.

The larvae feed upon the undersides of the tender red or pinkish-yellow young leaves of the host plant. Pupation is on the surface of the soil in a cell incorporating earth particles.

The host plant recorded was Rourea (Connaraceae).