Dichromia

thermesialis

Walker comb. n.


Hypena thermesialis Walker, [1866] 1865, List Specimens lepid. Insects Colln Br. Mus., 34: 1515.
Hypena modesta Moore, 1882, Descr. new Indian lepid. Insects Colln W.S. Atkinson, 2: 191.
Hypena rectifascia Hampson, 1891, Illust. Typical Specimens lepid. Heterocera Colln Br. Mus., 8: 23, 96.
Hypena aroa Bethune-Baker, 1908, Novit. zool., 15: 231.
Hypena modesta Moore; Holloway, 1976: 42.
Hypena propinqua Rothschild, 1920, J. fed. Malay St. Mus., 8: 130, syn. n.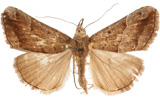 Dichromia thermesialis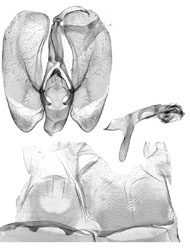 Diagnosis. The forewings are a dark blackish grey with an obscurely darker, transverse antemedial, a fine, white, slightly triarcuate postmedial with a blacker zone basad, and a paler, greyer zone distad that grades darker again to an irregularly sinuous and punctate submarginal. The apical lens is obscure but a paler grey with a smoothly curved posterior border. See also the next species.

Taxonomic note. The above synonymy of modesta with thermesialis was established by Lödl (1999e), though he did not mention the Sumatran taxon propinqua. Earlier (Lödl, 1993), he had transferred modesta to Dichromia, a combination that is restored here.

Geographical range. Indian Subregion, China, Sumatra (Lödl, 1999e), Borneo, Buru, New Guinea.

Habitat preference. In recent surveys six specimens were taken in an area of cultivation around Bundu Tuhan at 1200m and one more at 1620m in the Park Headquarters area of G. Kinabalu. There is also much older material without precise data from G. Kinabalu.

Biology. Larvae in India were described by Bell (MS) and attributed to thermesialis or Hypena conscitalis Walker (but see below). They are cylindrical, only slightly tapering at each end. The prolegs on A3 are absent but those of A4 are only slightly smaller than the fully developed ones. The head is shining, pale yellowish, freckled brown and patched with black. The setae are on black chalazae in spots of varying size. The body surface is dull, appearing blackish, the olive-green ground suffused extensively with black, and the chalazae of the setae also being black, but ringed paler. There are faint white subdorsal, lateral and subspiracular lines, the first particularly obscured.

The host plant was given as 'Pauzelzia', probably Pouzolzia (Urticaceae). Robinson et al. (2001) attributed a record by Bell for this host to Hypena conscitalis Walker. Vouchers for this species, numbered 919 by Bell, have been located and are in fact H. rectifascia Hampson.