Dichromia

cognata

Moore


Hypena cognata Moore, [1885] 1884-1887, Lep. Ceylon, 3: 224.
Bomolocha tanis Swinhoe, 1917, Ann. Mag. nat. Hist. (8), 19: 164.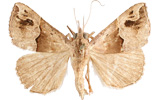 Dichromia cognata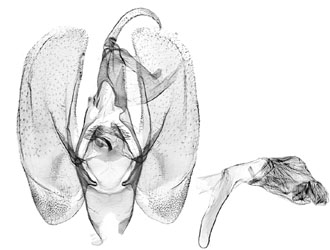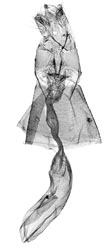 Diagnosis. This species is somewhat similar to indicatalis, except the forewing postmedial is more basal, though similarly triarcuate and often oblique; the zone basal to the angled antemedial is sometimes paler than the medial zone rather than concolorous. The distal edge of the apical lens is at a more acute angle to the margin initially, perhaps 30° rather than 40°, though this is variable, and some specimens have a slight reverse flexure at the actual apex, and the black shading exterior to it is restricted more to the basal side. The male antennae have long cilia over the basal half as in laesalis. In the male genitalia, the valves and saccus are relatively longer than in the preceding two species, the former with a distinct curvature, some serration to the ventral margin of the pleat and a strong lobe to the ventral end as in indicatalis. The uncus is more strongly curved than in indicatalis, more as in laesalis. The aedeagus vesica lacks the fine spining of the other species and is relatively large. The female genitalia have a bursa that lacks signa.

Taxonomic note. This species was combined with Dichromia by Lödl (1993).

Geographical range. Sri Lanka, India, Hainan, Borneo, New Guinea, Bismarcks, Solomons, Vanuatu. There are also specimens in the BMNH from Tuvalu (Ellice Is.).

Habitat preference. There is a single worn Bornean male taken in the lowlands from 85 miles above (upstream from?) Pontianak in Kalimantan. A female was taken in the understorey of secondary forest at at 170m on the Bukit Atur Road near the Danum Valley Field Centre in Sabah.