Dichromia

occatus

Moore comb. n.


Hypena occatus Moore, 1882, Descr. new Indian lepid. Insects Colln W.S. Atkinson, 2: 191.
Hypena crassipalpis Butler, 1889, Illust. Typical Specimens lepid. Heterocera Colln Br. Mus., 7: 85, syn. n.
Hypena hampsonialis Wileman, 1911, Trans. ent. Soc. Lond., 1911: 261.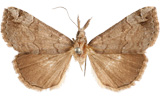 Dichromia occatus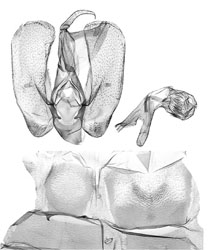 Diagnosis. The forewings are an ashy grey with a fine triarcuate, oblique postmedial that can have a diffusely darker band immediately basad. The antemedial is irregularly angled, the angle rather rounded and with its concavity basad. The posterior to distal border of the apical patch is stepped, dentate, zigzag. See also the taxonomic note.

Taxonomic note. Some forms of D. triangularis Moore comb. n. (Indian Subregion, Burma, Taiwan) are very similar, but the posterior boundary of the forewing apical mark is smoothly curved in triangularis and zigzag to dentate in occatus. The black-with-white spots within the apical mark are aligned at right angles to the costa in occatus but form a chevron in triangularis. There is no occatus form to match that of triangularis with a dark medial triangle based on the forewing costa. Both occatus and triangularis have male genitalia typical of Dichromia, but occatus has a tongue-like process just exterior to the distal end of the pleat of the valve whereas triangularis has a much smaller one at the end of the pleat.

Geographical range. Indian Subregion, Taiwan, Japan, Korea, Laos, Borneo, Philippines, Sulawesi, Java, Bali, Sumbawa.

Habitat preference. Several specimens have been recorded from both primary and logged lowland dipterocarp forest at 170m near the Danum Valley Field Centre in Sabah.

Biology. Robinson et al. (2001) listed Boehmeria (Urticaceae) as a host plant of triangularis, and possibly occatus will also prove to feed on this.