Sarobela

litterata

Pagenstecher


Plusia litterata Pagenstecher, 1888, Jb. nassau. Ver. Naturk., 41: 378.
Hypena biplagiata Butler, 1889, Illust. typical Specimens lepid. Heterocera Colln Br. Mus., 7: 86.
Athyrma aurotincta Hampson, 1893, Illust. typical Specimens lepid. Heterocera Colln Br. Mus., 9: 23.
Sarobela spectabilis Turner, 1936, Proc. R. Soc. Queensland, 47: 44.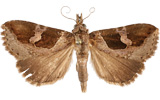 Sarobela litterata


Diagnosis. The build and coloration are Hypena-like. The forewings are distinctively marked with two large black patches based on the costa, the more basal at one third in the shape of a parallelogram extending obliquely distad, and the more distal based from the approximate centre to just short of the apex, approximately triangular but resembling somewhat the more distal patch seen in many Avatha Walker species (see Holloway, 2005).

Geographical range. Indian Subregion, Taiwan, Burma, Andamans, Sumatra (Lödl, 1999e), Borneo, Lombok, Philippines, Sulawesi, Ambon, New Guinea, Queensland.

Habitat preference. Only two Bornean specimens have been located, in Museo Civico di Zoologia, Rome and in FRC Sepilok. The first was taken at Tenom in the lowlands of Sabah. The second was taken in an area of orchards and secondary forest at 700m at Apin-Apin, Ulu Bundu, near Tambunan in Sabah.